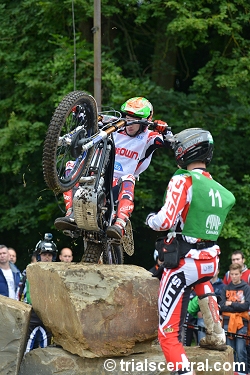 JSTGGUK Team riders Michael Brown and Alexz Wigg were out in the main champ class and were 10th and 12th respectively. The wet and muddy conditions should have suited our boys better then the results show but nevertheless they gave 100%. I wish Michael could borrow my legs when he's pushing and shoving for a three! Michael's best lap was his last with a great one mark ride on section 7.
Alexz is now 12th in the Championship three points in front of Michael in 13th. Michael did however miss the two days in Japan due to his tendonitis. Both riders can fight to get into the top 10 overall after the remaining 5 days of WTC left. Thanks to Kev for prepping Michaels bike.
R+T GG rider Jack Price had another tough day in the popular World Cup Class finishing 15th. Well done to the other Brits - Billy Bolt 6th, Andy Chilton 8th, Iwan Roberts 10th ,Jack Spencer 13th, Luke Walker 14th

JSTGG Girl Katy Sunter was our only rider at the Women's WTC Round 1 and finished a creditable 5th and not too far off 4th! Get well soon Nikita Smith who I understand is improving daily
It was also the next S3 Round at the Westmorland Club organised Astley Cup Trial which the best GG rider was Shaun Fox in 7th and JST ricder Jack Stones in 10th This S3 round clashed with the Allan Jefferies Trial which wasn't ideal and no GG riders featured in the 'top' of the results. JSTGGUK rider 'on from' Dan Thorpe must have been in Belgium helping Katy and Sam Haslam was out helping Michael.