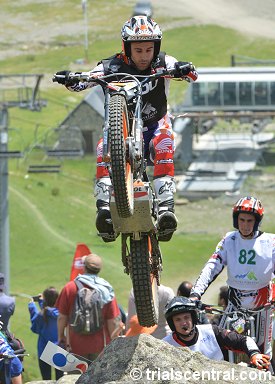 The sixth date in the World Trial Championship came to a close today with arch-rivals Toni Bou and Adam Raga finishing with the same score, although the Repsol Honda Team rider had to content himself with second place having completed the course over a greater time.

A minor error in two of the sections was enough to rob Toni Bou of another championship victory. It turned out to be an excessively easy course that put paid to Bou's four victory streak; a spell that had seen the Spaniard forge ahead at the top of the overall leader-board. One first lap fault, and another on the second, were the only two errors in an otherwise flawless race for the Repsol Honda Team rider. Bou cruised the final lap without any penalization whatsoever. Nevertheless, it was the overall time of completion of the course distance that decided the winner. Bou's second place in the French GP does not, however, alter the overall standings, although it does see the gap between Bou and Raga cut down to seven points. The season's final event, the two day Spanish GP, will be where the 2014 championship is ultimately decided.

Takahisa Fujinami, Repsol Honda Team's other rider, put in a worthy opening lap, but was unable to maintain the same level over the following two, finishing in sixth position on the day, and dropping one place in the overall World Trial Championship standings. The Japanese rider now occupies six spot, although we will be battling to improve the position in the final two races.

Next stop for Repsol Honda Team will be the Spanish Trial GP, the last of the season, to be held in Arnedo, La Rioja on September 6 and 7.
| | |
| --- | --- |
| | We had a very easy race ahead of us, and we couldn't do much about it. We were also faced with some judges who made some dubious decisions. I don't think that I had a bad race, but I was anxious not to make any mistakes and complicate things in the championship, but the course was easy. The terrain was incredible and they could have marked out much more difficult sections, but they tried to make it easy for everyone and they overdid it. It was a pity to miss out on a victory by so little, but we'll have to make do with the positive aspects; we are still seven points clear at the top of the championship, which is really good. We will be looking to manage this advantage and control the final GP to reach our goal. |
| | I got off to a good start in the race, but in the end it turned out like those of previous races. The sections were fairly easy, but I started to make some mistakes and started picking up errors. I thought that I would be able to make it around section 9 without problems but I picked up a fault. I received more marks every time around, and I knew that I was messing up, but I didn't have the margin to make it up. I tried to finish fifth, but I came in sixth, although I could have finished further back. This August I will try and recover from the knee injury and will go all out in the final two races. |