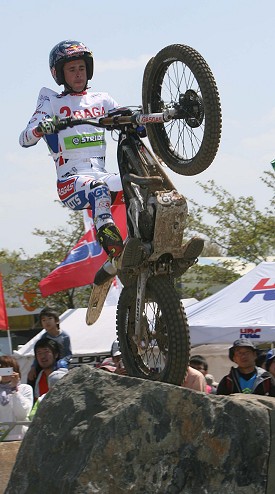 The second day of competition in the opening round of the 2015 FIM Trial World Championship at the Motegi ring in Japan proved to be a complicated one for Gas Gas rider, Adam Raga. After a podium finish yesterday, today the Gas Gas rider had to settle for a fourth place finish in the Japanese Grand Prix.
Like on the opening day, the mistakes of the first lap weighed heavily upon the fate of Raga. He did manage to return to second position momentarily, but further mistakes on the last lap finally cost a place on the podium for the Gas Gas team. This is a result which does not satisfy the Gas Gas rider, but the team draw positive conclusions from it heading into the next round of the World Championship, the GP of the Czech Republic.
In the World Cup, the Gas Gas School of Champions rider, Arnau Farré also came close to a podium place. After his seventh place yesterday, the young rider produced a solid performance that allowed him to improve and finish fourth. This result puts the young Llieda rider in fifth position in the World standings with a promising outlook for the future.
Finally, we regret to inform about the injury of Gas Gas rider Michael Brown in the Japanese GP. The winner of the last race of the British Trials Championship fell hard during the second day and suffered a fracture to his leg. The entire Gas Gas team wishes him a speedy recovery.
The next round of the World Championship will be the Czech Grand Prix, held in the Czech Republic at Sokolov, the weekend of the 30th and 31st of May.
Adam Raga: "Today was a very difficult day. The truth is that we are not too satisfied with the result, having failed at the beginning of the race and then we were not able to overcome. There was a time when we have even been in the second position, but after two errors in the last sections have left us no room. Not a good result, but we have to move forward and improve in the forthcoming rounds of the World Championship."