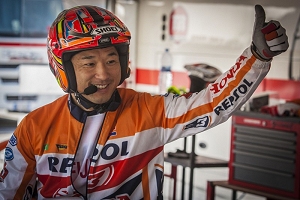 Toni Bou, Takahisa Fujinami and Jaime Busto of Repsol Honda Team are this weekend set to tackle the fourth date of the FIM Trial World Championship in Great Britain, one of the most emblematic events of the championship.
After trips to Japan, the Czech Republic and Sweden, the next destination is the U.K. with one of the most important GPs of the season. Great Britain is, of course, a country heavily steeped in the trial tradition, with a long history of the discipline, having produced some of the great historical figures and where spectators appreciate the intricacies of the sport's techniques.
Nord Vue plays host to the fourth round of the trial championship that sees Toni Bou arrive on top of his game and on top of the leader-board after six back-to-back victories. The Montesa Cota 4RT rider sits on a 28 point advantage over closest second-place rival Adam Raga and arrives at a circuit which has always been a lucky charm for the Catalan ace whose participations correspond to the number of wins.

Repsol Honda Team colleague Takahisa Fujinami also goes in search of a good result after refinding his form in the Swedish GP, where he finished on the podium in the first of the two races. The Japanese ex-world champion currently holds fourth place in the overall standings with distinct possibilities of improving on this position.
Likewise, rookie Basque rider Jaime Busto will endeavour to continue his apprenticeship amongst the World Pro elite at his first season with Repsol Honda Team. Busto is sixth overall.
The Nord Vue trial, close to Carlisle and Penrith will consist of a 2.5 kilometre route that has been designed featuring twelve sections. As is usual, riders will have to complete three laps with the final rider – Toni Bou – due to set off at 11:00 a.m. local time (GMT).
| | |
| --- | --- |
| | Great Britain is a race that I like a lot. We have competed there on various occasions and we know the place well. We are not sure what kind of climate to expect, but it will probably rain, which will make everything more difficult, but for me the more difficult it is the better. I'm arriving here with a lot of confidence after the six wins and a good advantage in the overall standings. I'm very motivated bacause I haven't ever lost in Nord Vue and it's always been a charmed place for me. I will give it everything this weekend. |
| | This trial in Great Britain is a special one where I really enjoy taking part. I've always got on well with this place and I'm used to getting good results here. I think that the trial should be more or less like the other ones, a bit like an indoor, with a lot of rocks, but that shouldn't be an impediment to me. I hope to be able to keep up my recent form and make it on to the podium. I'm better then I was last year, so I hope to be able to get a pleasing result. |
| | Everybody knows the English trial very well, although the others know it a bit better than me, because I have only been there once last year. It went well for me, but at World Pro level things are more complicated. I hope that it is a difficult trial where I will have to fight hard to get a good result. But, I think that the three trials this year have gone better then I had expected. The team has supported me and I feel better and better on the bike. I will try and do my best in this race. |