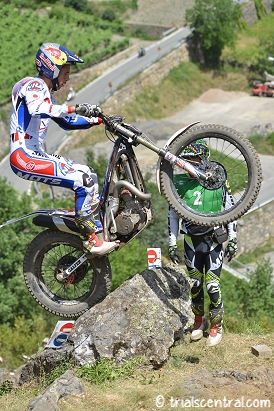 Adam Raga – Gas Gas today took his second win a row, this time on the opening day of the Grand Prix of Andorra that marked round six of 2015 FIM Trial World Championship held in Sant Julia de Loria. Raga had trailed reigning champion Toni Bou – Repsol Honda going into the last the lap by two marks, but a couple of uncharacteristic mistakes by Bou during the closing stages saw Adam make it back-to-back victories as he eventually ended the day six marks clear of his arch-rival. Jeroni Fajardo – Beta once again made it an all Spanish podium as he claimed third spot a further nine marks back from Bou.
The steep mountains of Andorra accompanied by searing temperatures of over thirty degrees Celsius created another tough day of competition in the small principality. Breaking with tradition, eleven of the twelve sections this time were located on the opposite of the valley to the normal location. Only the last watery hazard back down in the town offered any kind of variety to the sheer, dusty, sometimes loose rock faces that could be found in all, but section twelve. A few minor tweaks to four sections prior to the start of Trial prevented the potential zero scores that some riders had predicted following their course inspection yesterday with the main protagonists having deemed the hazards too easy.
Albert Cabestany – Sherco nearly proved this point to be true as he parted with just a single dab on his first lap to become the initial and interim leader over Bou who had dropped two marks for the same period. Raga was next best at this stage on six marks, after having failed in section two on his first attempt. Bou was in front come the close of the second lap as Cabestany's challenge faded badly to put him back in fourth position come the finish. Raga left his charge until late, but was more than worthy of the win again, just as in France only six days ago.
Jorge Casales – Beta in only his second event since returning from injury can be pleased with his fifth place today as he saw off Jaime Busto – Repsol Honda by four marks. Alexandre Ferrer – Sherco claimed seventh position ahead of Takahisa Fujinami – Repsol Honda who endured his worst result of the 2015 campaign down in eighth, whilst Francesc Moret – Vertigo and Pol Tarres – Sherco sealed today's top ten respectively.
Spain's Miquel Gelabert – Sherco finally clinched his first victory in this year's FIM Trial World Cup despite having been one of the main title contenders for most of the season. Gelabert, who is the fifth different winner in this division, now sits second in the general standings after narrowly defeating Gael Chatagno – Sherco on a most cleans tiebreak after the pair finished on ten marks apiece. The fight for the final rostrum place was equally tight with Arnau Farre –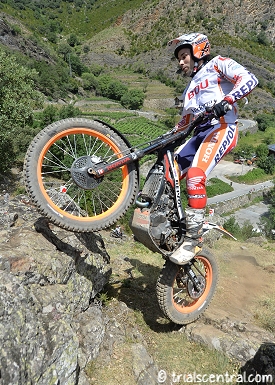 Gas Gas mounting a great recovery to eventually snatch third spot. This was again decided on a most cleans tiebreak, however this time it was Iwan Roberts – Beta who suffered on the count back as he ended the day in fourth. Oriol Noguera – Honda slipped to third in the points table after today as he completed the top five on day one. Quentin Carles de Caudemberg – Beta could only mange tenth spot and saw his series lead reduced to just seven points over Gelabert.
Marco Fioletti – Beta delivered a faultless last lap to steal his tenth win of the season in the FIM 125 Trial Cup and once again increase his advantage at the head of the general standings. It was eventual runner up Jarmo Robrahn – Beta who was the early leader, an advantage he held right through to the end of lap two after he parted with just a single mark on each of his opening laps. With a seven mark lead going into the final lap Robrahn looked favourite to become only the third winner in this class this year alongside Fioletti and Norway's Sondre Haga – Beta, however a five in section two on his last visit was to deny him of him of his moment of glory and he finished one mark behind his Italian rival. Spain's Gabriel Giro – Beta equalled his best result as he closed out today's FIM 125 Trial Cup podium.
The second day of the Grand Prix of Andorra will take place tomorrow, in what are expected to be equally hot conditions and with there sure to be modifications to some sections to increase the severity across all classes ahead of Sunday's Trial.
Results

World Championship Results

1. Adam Raga - 14

2. Toni Bou - 20

3. Jeroni Fajardo - 29

4. Albert Cabestany - 34

5. Jorge Casales - 58

6. Jaime Busto - 62

7. Alexandre Ferrer - 63

8. Takahisa Fujinami - 65

9. Francesc Moret - 87

10. Pol Tarres - 93

11. Franz Kadlec - 97

12. James Dabill - 110

13. Eddie Karlsson - 125

14. Jack Sheppard - 132

15. Hakon Pedersen - 151

World Cup Results

1. Miquel Gelabert - 10 (32 cleans)

2. Gael Chatagno - 10 (31 cleans)

3. Arnau Farre - 11 (29 cleans, 6x1, 0x2, 0x3, 1x5. Time: 05:26:30

4. Iwan Roberts- 11 (29 cleans, 6x1, 0x2, 0x3, 1x5. Time: 05:28:03

5. Oriol Noguera - 13 (32 cleans)

6. Jack Price - 13 (29 cleans)

7. Benoit Bincaz - 16

8. Luca Petrella - 18

9. Billy Bolt - 23

10. Quentin Carles de Caudemberg - 25

11. Marc Riba - 36

12. Declan Bullock - 38

13. Pierre Sauvage - 42

14. Dan Peace - 44

15. Bryan Ropder - 46

125CC Championship Results

1. Marco Fioletti - 9

3. Jarmo Robrahn - 10

3. Gabriel Giro - 15

4. Maxime Varin - 27

5. Axel De La Mata - 59

6. Christopher Wengler - 83
Photo Coverage
Trials Central Supporters can access a gallery of over 160 high resolution and unwatermarked images from day one in Andorra by clicking here
Free Public Gallery