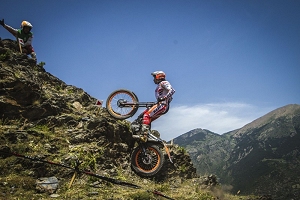 After a look over the sections on Friday, Toni Bou correctly speculated that Saturday's race would be decided by a minimal margin due to simplicity of sections. He hit the nail on the head. After holding the lead – in a very tense trial thanks to the closeness on the scoreboard – a final disastrous round on the Montesa Cota 4RT, with two consecutive five-point faults, ruled out the chance of victory for Bou. Toni had finished the first lap with two marks and six on the second (including a fault in section eight) which left the Spaniard at the head of the table. The eleven marks of the final lap relegated the champion to second position some four points behind Adam Raga, the day's eventual winner.
Toni Bou does, however, maintain a great margin at the top of the general rankings, 31 points ahead of second-place Raga.
Second for of the Repsol Honda Team squad today was rookie Jaime Busto, taking sixth place after a somewhat irregular trial which saw him score well on the second lap, but pick up too many marks on an error-filled final lap.
Takahisa Fujinami was ill-at-ease in the high-altitude sections and struggled to find the form in certain zones that he had demonstrated in previous outings. At one point in the battle for fifth place, the Japanese rider ended up in eighth overall after a disaster start of the last lap.
Sunday, fans can look forward to the second and final day in Andorra, the sixth GP of the season, where riders will once more complete three laps of the twelve kilometre circuit in Sant Julià de Lòria. The organization has already announced changes to some of the twelve sections to make the route more demanding.
| | |
| --- | --- |
| | Obviously I made more than the permitted amount of mistakes. In the first lap everything went well. But in the second and third, I made a couple of errors. All the riders are a bit annoyed because the judges didn't apply the rules well either. The sections were too easy, and we don't like that. Second place isn't negative at all, because these are some important points for the championship. |
| | This Andorra Trial at altitude and high temperature was pretty difficult for all of us. The sections were changed around on every lap and the route was tricky. It's my worst result this season and after the great spell that we've had, I didn't expect to finish so far back. Tomorrow I hope to recuperate, to make it through the hazards well, so as not to pick up too many marks. The knee, however, has been perfect. |
| | A sixth place wasn't a bad result, but I wanted to do better. I scored a few faults in what were easy sections and I improved a bit in some of the more difficult ones. I think that maybe the altitude and the heat had an effect and I'm not happy with the way I took some of the sections. Tomorrow I will try and improve on things and consequently get a better result. |