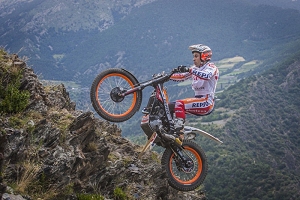 It was a gruelling and tough trial in Sant Julià de Lòria, Andorra, with a Repsol Honda Team unable to accomplish their original objective of a Toni Bou victory. The current world champion was frustrated in some of the sections, where several errors raised the scorecard tally to levels that left Bou incapable of overcoming the day's eventual winner Adam Raga.
Toni Bou, nonetheless retains a 28-point advantage at the top of general rankings with three GPs still left before the season closes.
Bou's brother-in-arms at Repsol Honda Team, Takahisa Fujinami, put in an improved performance compared to yesterday's, although three consecutive errors on lap two minimized the possibility of a podium place. A fifth final place on the day in Andorra corresponds to his fifth position in the overall rankings.
Repsol Honda Team's debutant Jaime Busto had it tough in the Andorra heights today. A sudden attack of lumbago saw the rookie seek treatment from the organization's medical team and left the Basque rider unable to ride at full potential on the event's second day, although Busto did succeed in coming away with a respectable sixth place.
Next port-of-call for the Repsol Honda Team will be at the same location next weekend, this time for the Spanish Trial Championship, the fourth date of the calendar. The next FIM Trial World Championship event will be the USA GP – the seventh round – to be held on 25th and 26th July.
| | |
| --- | --- |
| | The trial got off to a tough start when I picked up a '5' in the second section. There were a few moments when it looked like I could pull it off, but in the end it wasn't to be. And when it's not meant to be, the best you can hope for are the runner-up points, because I almost finished in third place. Adam has been really strong here and I know that it will be really hard to beat him in the coming races, which is why all the consecutive wins and the advantage up until now are so important. |
| | I continued to have some problems in some of the sections, where I couldn't make it over the obstacles which went from '0' to '5'. For that reason I picked up a lot of points. I fought really hard, but on the second lap I committed three faults in a row which meant a podium was out of the question. Yesterday, I was last out of the chasing pack, but today I was the first of them. Now it's time to focus on the forthcoming races which won't be at altitude, so hopefully I won't feel so bad. |
| | Today I really suffered. No sooner had the race began when I started to feel a lot of pain in my lower back and I didn't think that I'd be able to finish the race. Luckily, there was a physio from the organisation who gave me a massage and I was able to go on. I didn't want to pay any attention to the result, just to get through it as quickly as possible. At the end of the day, sixth place isn't bad, but I had a tough time out there today |