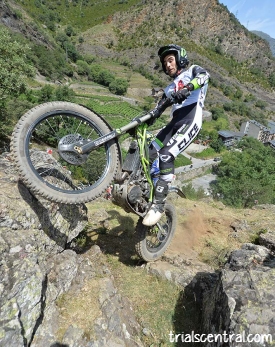 Scorching heat, high altitude and sheer rock faces defined round six of the 2015 FIM Trial World Championship held in Sant Julia de Loria, Andorra. The Vertigo factory team boasted two riders for the second week running as series regular James Dabill was joined by Francesc Moret, the latter making only his second appearance in a Trial GP this season, but this did not prevent him recording a career best result on day one.

A full compliment of technical staff were on hand to continue the development process as once again the prototype Combat was put through its paces in what proved to be another tough weekend of competition high in the mountains of the compact Principality.

Saturday arrived with the sun shinning brightly and with temperatures reaching over thirty degrees Celsius as the riders faced three laps of twelve sections. Breaking the usual format, this year the hazards were located on the facing side of the valley to their traditional position with all but the final section, which was in the river back in town, featuring sheer rock faces that were often dusty and loose in places.

Day one belonged to Moret as he recorded his best result at a Trial GP. The young Spanish rider improved his performance as the day wore on to claim an excellent ninth place come the finish and to put the prototype Combat inside the World Pro top ten on terrain that was much to his liking. In contrast, Dabill never connected well with the ultra dry conditions and without his regular minder due the injury he sustained last weekend, James began a day-long battle from the first lap as he notched an opening score well off the pace of the top five in which he had hoped to feature. In truth he never managed to recover from this position and with a matching second lap score and an even higher count on his final tour, Dabill ended his day down in twelfth spot.

Sunday saw the tables turn as this time it was Dabill who was the better of the two Vertigo factory riders. Looking stronger and more in tune with the terrain James dug deep aboard the prototype Vertigo Combat to record a respectable ninth place come the end of another three tough laps in extremely hot weather. Moret, unfortunately was not able to repeat his incredible Saturday showing and despite his best efforts had to be content with a position just outside the top ten on day two as he took eleventh position on this occasion.

Vertigo Sports Team Manager Dougie Lampkin summarised the weekend by saying. "It has been a bit of a mixed weekend again, but one we can certainly take some positives from. Francesc's ride on Saturday was a great reward for all the effort he has put into this project and showed what he can be capable of. To achieve his best ever GP on the prototype Combat is yet another thing the team can be very proud of."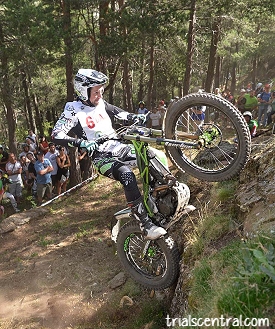 "Sunday saw James make an improvement and has hopefully helped him regain some of the confidence he has lost over the last couple of weeks. He rode really nervously yesterday, but for no real reason. The good thing is that he was much happier with the bike set up this week, and in general we now have a good base package for high altitude events in the future. The couple of weeks break now before the trip to the US will give us a chance to regroup after five events in six weeks."

Dabill added his few words. "At least today has been better, but it needed to be after Saturday. Yesterday, although the bike felt good, I was riding so nervously in sections where you needed be really confident. It's been a tough couple of weekends, but now I have got a bit of time to be ready and good shape for the US round."

Moret ended with his comments. "To gain my best ever result and to be inside the top ten of the World's best riders was like a dream for me. It was a shame I could not repeat it again today, but overall it has been a good weekend."

The 2015 FIM Trial World Championship now takes a short break before resuming in the USA later this month.