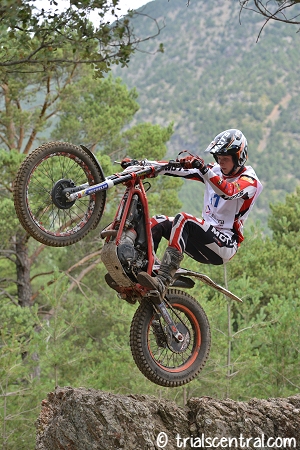 Dan Peace in action in Andorra.
Image: Trials CentralADAM RAGA (GASGAS) has celebrated his Day two win in France with a double win in Andorra at the weekend ! Arguably the fittest rider in paddock, he dealt with the heat and altitiude well and had the perfect set up for his bike for the steep Andorran hills. Congrats to Adam, Michele Bosi and Team...
In the World Cup Class Road and Trials GG rider Jack Price had his first trip to Andorra and was like everyone sweating well. It looked a bit easy for the World Cup lads on Day1 with Jack only losing 13 marks finishing 6th but only 3 marks down on the winner. Sections were adjusted for Day2 and the scores were better. Jack slipped to 8th on Day2 but holds a very respectable 6th in the Championship Standings with six event days to go.
JSTGGUK rider Dan Peace is having a very hard 'apprenticship' this year at the WTC and Andorra was again tough for him with the heat, altitiude, six punctures on Day1, broken chain on Day1 and a major crash between sections on Day2 !! Dan struggled in 14th on Day1 and 15th Day2, now 10th in the Championship. Dan and family are now back home and will return to the WTC in Portugal missing the expensive USA round later this month.
Back on UK soil JSTGGUK rider Dan Thorpe was 4th at the Allan Jefferies National Trial.
JSTGG Girl Katy Sunter made a welcome return to competition after injuring her knee at the Chris Carter S3 round in April. She enjoyed her day, bit rusty but her knee seemed 'ok'.