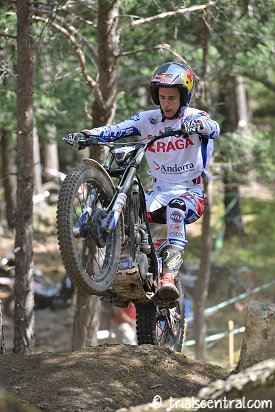 There is no doubt that Adam Raga – Gas Gas is most definitely on a roll and making a real impact on the 2015 FIM Trial World Championship following his recent three counting days wins, one in France and two in Andorra. The now thirty-three-year-old is sure to be full of confidence as he resumes battle this coming weekend as the series heads over to America for round seven of the current campaign. Having recorded his maiden Trial GP win and won on American soil on four more occasions, it is obviously a stop on the tour that suits Raga well.
Against the backdrop of Raga's recent run of form, it should not be forgotten that defending champion Toni Bou – Repsol Honda remains the main to beat in terms of the overall title fight as he continues to hold a twenty point lead over his compatriot in the general standings. Despite having had to play second fiddle to Adam three times on the bounce at World level and also taste defeat to his arch rival at the most recent round of the Spanish national series, Bou will not have lost sight of his overall goal of clinching a record extending ninth outdoor crown. The on going scrap between these two main rivals looks set to continue in the USA, with the added spice of other riders entering the mix as the flyaway event throws up the usual peculiarities associated with teams not having on hand their normal facilities.
Out of the supporting cast Jeroni Fajardo – Beta, who currently holds third in the overall points table, is the rider who looks most likely to potentially add his name to the list of GP winners this season. Fajardo has twice finished runner-up in 2015, once on the opening day of the new campaign in Japan and then again on the first day of the Swedish GP. Albert Cabestany – Sherco presently sits fifteen points shy of Fajardo in the general standings and will need to find something extra during the latter part of the year if he wants to retain his place in the World's top three.
Evergreen contender Takahisa Fujinami – Repsol Honda has been fighting all season to retain his position in the top five as he continues to endure the effects of his long term knee injury and the threat of the new tribe of younger riders, none more so than his rookie teammate Jaime Busto – Repsol Honda, who sits just behind him in the championship table. Busto is the best of the chasing crop and has now established himself as a regular top six finisher, who might just be capable of a podium placing on his day.
Vertigo factory rider James Dabill will be hoping the long trip to America brings him better fortunes after two poor showings at the recent rounds in France and Andorra. He now finds himself in a fight with Alexandre Ferrer – Sherco, with the young French rider having drawn level with him in the points race after he got the better of the reigning British champion at the last two GPs. Eddie Karlsson – Montesa and Franz Kadlec – Beta respectively round out the current top ten in the World Pro general standings, and are two young riders who will be looking to make a big impression stateside.
Through in the FIM Trial Word Cup division it will be series leader Quentin Carles de Caudemberg – Beta, who heads the charge in this highly competitive class as the battle moves to the USA, however he is just one of perhaps ten riders who is capable of winning on any given day. To date this season there have already been five different victors in this intermediate category, they include Carles de Caudemberg, Miquel Gelabert – Sherco, Iwan Roberts – Beta, Jack Price – Gas Gas and Benoit Bincaz – Scorpa. All five are potential winners again this weekend, as this intriguing clash continues to play out, this time in front of the American Trial fans.
Italian supremo Marco Fioletti – Beta will resume his head to head tussle with Maxime Varin – Scorpa, as these two young competitors fight it out in the FIM 125 Trial Cup as all eyes focus on Stepping Stones, USA this coming weekend.