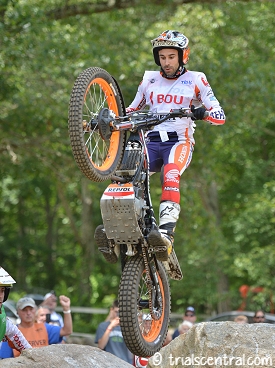 Series leader Toni Bou – Repsol Honda made an emphatic return to his more usual winning ways as he destroyed the opposition on the opening day at Stepping Stones Ranch that marked round seven of the 2015 FIM Trial World Championship. Bou ended the day thirty-two marks clear of Adam Raga – Gas Gas who himself was looking to extend his own recent victorious run, having beaten Toni on the last three occasions. Bou carved out an early lead on lap one and never looked back as he increased his advantage over Raga and the other World Pro riders during the closing two laps on a day when the sun shone strongly and with intense heat. Jorge Casales – Beta rounded out the podium on day one, as he achieved his best ever result to take third spot after having only recently returned from injury.
Stepping Stone Ranch served up some big rounded boulders to test the World's best Trial riders as the series returned to America for the first time since 2013. Only the man-made final section that consisted of logs and rocks broke the natural theme with the other hazards being located in the mainly flat, but dense woodland close to the paddock. The edges of a torrential storm dampened the ground late yesterday afternoon and this played its part as the riders gradually dragged the wet soil onto the smooth boulders as the day wore on which saw grip reduce over the course of the event.
The slightly slippery conditions on lap one did little to halt Bou in his dominant progress as he ended the first lap already twelve marks better than Raga with time also playing its part on the opening tour. Raga simply had no answer today to Toni's supremacy and soon became more occupied with making sure second place was safe as Casales delivered an exception second lap to promote himself from eighth to fourth and then onto the podium come the finish as the three Spanish riders rode clear of the rest of the pack. As a result of this Bou now heads Raga in the general standings by thirty-one points.
Albert Cabestany – Sherco and Jeroni Fajardo – Beta made it all Spanish top five as they both endured indifferent days in front of a healthy gathering of noisy and highly appreciative American fans. Takahisa Fujinami – Repsol Honda was never on the pace of the front-runners and had to be content with sixth position on this occasion. James Dabill – Vertigo recovered well after a poor first lap to claim seventh, whilst
Alexandre Ferrer – Sherco, Jaime Busto – Repsol Honda and Franz Kadlec – Beta respectively were the World Pro riders who closed out the top ten today.
Jack Price – Gas Gas was the winner of the FIM Trial World Cup, this being his second victory of the season as he narrowly defeated Miquel Gelabert – Sherco after having led from lap one through to the end. Oriol Noguera – Honda completed the rostrum on the opening day in this tightly fought category once again with a total just four marks more than runner up Gelabert. Iwan Roberts – Beta placed fourth this time out to keep his title hopes alive, whilst it was Arnau Farre – Gas Gas who finally took fifth position. Championship leader Quentin Carles de Caudemberg – Beta could only manage sixth place today and hence saw his advantage in the general standings reduced to ten points over Gelabert heading into day two.
Italy's Marco Fioletti – Beta continued his utter domination of the FIM 125 Trial Cup as he ran out the clear winner on day one by finishing twenty-four marks in front of his closest title rival Maxime Varin – Scorpa. Marco's latest triumph sees him take his tally to twelve wins this season which, in turn has allowed him to open up sixty point lead in the general standings with just five counting days remaining.
Day two of the US Trial Grand Prix will take place tomorrow, with another hot day in prospect at Stepping Stone Ranch.
Results

World Championship Results

1. Toni Bou - 37

2. Adam Raga - 69

3. Jorge Casales - 78

4. Albert Cabestany - 83

5. Jeroni Fajardo - 91

6. Takasiha Fujinami - 100

7. James Dabill - 107

8. Alexandre Ferrer - 110

9. Jaime Busto - 114

10. Franz Kadlec - 128

11. Eddie Karlsson - 132

12. Jack Sheppard - 173

World Cup Results

1. Jack Price - 31

2. Miquel Gelabert - 38

3. Oriol Noguera - 42

4. Iwan Roberts - 56

5. Arnau Farre - 71

6. Quentin Carles de Caudemberg - 74

7. Andrew Putt - 75

8. Bryan Roper - 77

9. Gael Chatagno - 92

10. Filippo Locca - 101

11. Declan Bullock - 109

12. Noe Pretalli - 117

13. Alexander Niederer - 152

14. Timmy Hippel - 173

125CC Championship Results

1. Marco Fioletti - 35

2. Maxime Varin - 59
Photo Coverage
Trials Central Supporters can access a gallery of over 140 images from the opening day of World Trials in the USA by clicking here. Supporters images are high resolution and do not carry watermarks
Free gallery