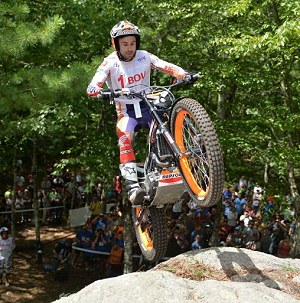 Incumbent champion and overall competition leader Toni Bou reconquered the top step of the rostrum after a three-race spell of runner-up finishes which began in France and continued in Andorra. The United States bought the best out of Bou who stamped his absolute authority on what was a demanding trial.
Rhode Island's United States Trial was a particularly taxing one after the previous evening's downpours had left the spectacular rocks of the Stepping Stone Ranch still damp. A superb Toni Bou astride the Montesa Cota 4RT soon took control of the tricky terrain and cruised home ahead of second place Adam Raga, who had chalked up almost double the score by race-end. Bou had the trial virtually in the bag by the end of the first lap, collecting a mere 9 points compared to the 21 of his main rival. By the time the day was done Toni Bou had scored 37 compared to the runner-up's 69. The Repsol Honda Team rider now sports a 31 point advantage over Raga at the head of the overall rankings.
Takahisa Fujinami had a rough day out finishing in sixth after the Japanese Repsol Honda Team veteran committed some costly errors that saw him drop down the table. Jaime Busto likewise failed to find form after suffering intestinal problems as the rookie made his U.S. debut. Busto took ninth place overall and like Takahisa Fujinami, will be looking to improve upon the result on Sunday's final day.
Sunday sees the second day of the United States GP at Stepping Stone Ranch in Rhode Island. Riders will again face twelve sections over three laps.
| | |
| --- | --- |
| | It went really well and I'm very pleased. The sections were very complicated and my rivals started to make mistakes on the first lap. I was able to take advantage. In spite of a few errors, I'm very happy because I rode well and felt very comfortable and now I'm back on top of the podium after three races without winning. Yesterday's rain had maybe made the event more complicated, but it made for a perfect trial. |
| | It was a bad day. Yesterday, when I had a glance at the sections, I liked the look of it. Today the crowd was up for it and everything seemed to point towards a good day, but it wasn't to be. On the first lap I was really tight for time and I couldn't look at the sections and I lost concentration. Too many faults. Tomorrow I hope to learn from it and improve on things considerably. |
| | Today I didn't do so well. I felt bad for something that I had eaten. Physically, I really noticed it and I wasn't able to ride comfortably. The second lap wasn't much good, but neither was I able to do a lot on the final round. Let's hope that we can turn the result around for a better one tomorrow. |