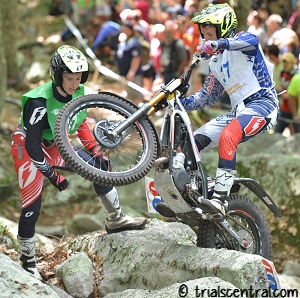 Jack Price in action in the USA. (Image: Trials Central)Road and Trials GASGAS rider Jack Price made the long and expensive trip to WTC USA worthwhile at the weekend with a WIN and a 4th over the weekend. Jack won Saturday Day1 to win his second round of the year. The results are usually close in this class but Jack won by quite a decent 7 mark margin. He followed up the win with a 4th on Day2 only 8 marks behind the winner. Jack is now 5th in the Championship Standings which are also close so with 4 rounds remaining there is all to fight for.
Back on home turf, JST GGUK rider Dan Thorpe finished a respectable 5th overall at the very popular Reeth 3 Day Trial. Dan had a nightmare first day which ruined his chances of a podium but then knucked down, as Dan does, to record the joint best score on Day2 and good again on Day3 to pull it back from to 5th after being 13th after Day1.
JST/Kelcoat rider Sam Yeomans finsihed 28th.
JST GG Girl Katy Sunter finished 27th in the clubman class which was good considering her dodgy knee.