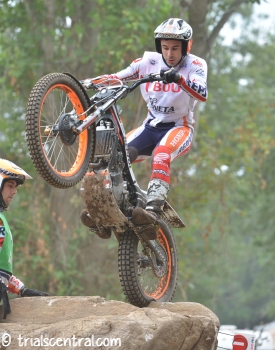 The holidays are over for Repsol Honda Team ace Toni Bou who returns this weekend to Paços de Ferreira, Portugal for the eighth GP of the FIM Trial World Championship, hoping to clinch the title. This would be the ninth consecutive championship title as the Repsol Honda Team legend heads towards what could prove to be an unmatchable milestone.
Two straight wins in the United States GP, before a well-deserved summer hiatus, stretched the lead over nearest rivals and leaves Bou in a comfortable position. The champ will get a first shot at taking the season's top honours in Portugal, needing victories on the Montesa Cota 4RT on both days to mathematically seal the prize.
Bou can expect the same kind of tough, dogged competition that he has experienced throughout the entire season with main rival Adam Raga expected to be hot on his heels. Raga is currently in second place, 34 points off the Repsol Honda Team top gun.
It will also be an important date for fellow Repsol Honda Team riders Takahisa Fujinami and Jaime Busto, in the fray for possible podium places. 'Fujigas' is fifth in the overall standings and still has options open to improve on this position. 'Rookie of the year' Jaime Busto, from the Basque Country, will also be hoping to advance up the general rankings while completing his mission of accumulating experience in the top flight. Busto is sixth overall. Busto took part in two competitions over the summer with two days at the Trial de Arinsal (Andorra) and two days in the Vall de Lord (Lleida, Spain), winning the Andorran race.
This weekend's trial takes place in Monte Pilar de Penamaior, five kilometres from Paços de Ferreira and some 35 km from Porto, one of Portugal's most important cities. The course will be 12 kilometres in length, during which riders confront twelve sections over three laps. The final competitor to start will do so at 11:00 local time.
Bike manufacturer Montesa, on which Repsol Honda Team riders Toni Bou, Takahisa Fujinami and Jaime Busto all compete, also look poised to take a tenth constructor's championship, the eighteenth in the history of world trial championships. Montesa, having won half the titles disputed since 1975, is the most successful world championship marque with 188 victories and a total of 506 podiums. Saturday in Paços de Ferreira gives the manufacturer the first chance of mathematically securing the 2015 season title.
| | |
| --- | --- |
| | To be able to arrive in Portugal with the chance of winning the title says a lot about the championship that we have had. Everything has gone really well. Except for France and Andorra we have been able to win everything else. The two wins in the US have been very important. To have four races still to go with a 34 point advantage is a lot and we can confront this GP with comfort. Nothing is set and the plan is to take it day-by-day, to try to win as always, but if we don't, we will keep fighting for the same goal in the next race. |
| | In September everyone is back from holidays, but I didn't have a lot of days off this summer. I have trained quite a lot preparing for Portugal. The objective that we are going for this season is a podium place. I've been fighting for it in some of the events and in Portugal, which is a trial that I like, I hope to be able to continue in that vein. I feel great both physically as well as on the bike and have been able to get a feel for the Montesa Cota 4RT once again. |
| | I have no idea what the Portuguese GP will be like as I have never competed there. I hope that it all goes well as I have been riding a lot in races over the summer and I'm getting to grips with the bike and I am determined to get some good results. Why not a place on the podium? |