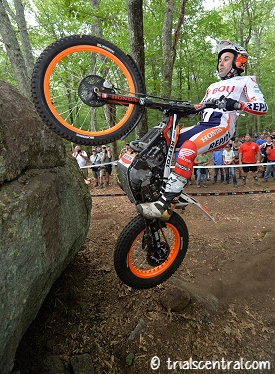 After the traditional summer break the 2015 FIM Trial World Championship will re-start this coming weekend with the penultimate round of the current series being hosted in Paços de Ferreira / Santo Tirso, Portugal. The rocky venue is no stranger to welcoming a Trial Grand Prix having already held similar status events on three previous occasions, those being in 2000, 2001 and lastly in 2010. After a five year absence from the series Portugal is a strong addition to the 2015 calendar and is a stop that could be significant in deciding this year's title.
Reigning and defending Champion Toni Bou – Repsol Honda heads to Paços de Ferreira / Santo Tirso with a healthy thirty-four point lead in the general standings having re-cemented his position of supremacy with back-to-back wins last time out in the USA. Bou's two victories on American soil brought a much needed halt to Adam Raga's – Gas Gas recent run of form that had seem him start to close in on the Repsol rider. Despite Raga's best efforts, he was no match for Toni in the USA and as a consequence Bou now has the opportunity to wrap up his ninth successive FIM Trial World Championship at the Portuguese GP if he can extend his advantage to forty points over Raga come Sunday afternoon.
For pride alone Raga will no doubt be fighting hard to at least delay the inevitable, as will his fellow Spanish compatriots Jeroni Fajardo – Beta and Albert Cabestany – Sherco who currently occupy third and fourth positions respectively in the points race. Realistically Fajardo is the rider most likely to upset the leading duo and has at times looked like a potential GP winner on his day. Odd lapses of form have prevented Jeroni challenging the top two in the championship fight, however despite some bouts of in consistency he remains on target to match his best ever ranking of third in the series which he previously achieved in 2012 and 2013.
Whilst Cabestany has rarely threatened the higher order all season, the veteran protagonist has used his vast experience to currently out point his equally established Japanese counterpart Takahisa Fujinami – Repsol Honda who will need to produce his best performances of the year over the closing two events, starting in Portugal if he is to overtake the Sherco rider in the final rankings. Behind these two elder statesmen of the series comes the rookie of the championship in the form of Jaime Busto – Repsol Honda. At the moment Busto sits in a safe sixth spot in the general standings that would represent a great first season for the young Spanish rider in the premier class.
The likes of recently crowned British Champion James Dabill – Vertigo, France's Alexandre Ferrer – Sherco, Eddie Karlsson – Montesa from Sweden and German teenager Franz Kadlec - Beta, who currently round out the top ten in the series respectively, will all be hoping to make their presence felt in Paços de Ferreira / Santo Tirso as they all look to close out 2015 in the strongest possible way in the World Pro division.
Whilst Bou may be the champion in waiting, it is a much different story in the FIM Trial World Cup category. Heading into the Portuguese GP Miquel Gelabert – Sherco holds a single point lead over Quentin Carles de Caudemberg – Beta, despite the Spanish rider only having won one round compared to five victories of his French rival. However far from being a two rider fight for the title, the leading pairing has close company from Oriol Noguera – Montesa who sits just nine points off the top spot in the general standings with two rounds to go. The British pairing of Iwan Roberts – Beta and Jack Price – Gas Gas also remain in striking distance of the top three and have already shown their potential with five round wins between them. With Arnau Farre – Gas Gas only a point back from fifth placed Price, the eventual champion in this class could be any of the current top six ranked riders.
With the FIM 125 Trial Cup title already in the bag Italy's Marco Fioletti – Beta will seek to continue his dominance in this group as the 2015 FIM Trial World Championship re-convenes in Paços de Ferreira / Santo Tirso this weekend.