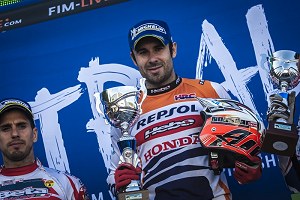 Repsol Honda Team rider Toni Bou sent a clear message to pretenders, showing who the numero uno in trial really is. Bou dominated the first day in Portugal with one of the best performances this season – not an easy task given the simplicity of the trial – where mistakes prove costly and nerves have to be contained. Toni picked up a sole penalty mark in section two of the first lap and went on to complete a near-flawless trial, collecting only two points for excess time.

Today's victory leaves Bou just a short step away from collecting his ninth title. The Montesa Cota 4RT star will mathematically guarantee the crown tomorrow, if he repeat's today's achievement.
Jaime Busto proved to be the biggest surprise of the day, repeating a fourth place finish as he had done once earlier this season in the Czech Republic. Repsol Honda Team's Basque rookie was in rostrum territory throughout the first two laps and looking poised for the year's personal best until an excess of errors on the final loop put paid to the rider's ambitions.
Takahisa Fujinami was hit by an attack of lumbago shortly after the start of the trial which made life difficult. The Japanese ex-champ battled on in spite of the pain but saw his efforts hampered as penalty marks began to accumulate on the score-sheet. Fujigas made it through to the end in eighth spot.
| | |
| --- | --- |
| | The title is really close but today Adam made things hard. The most important thing is to have got the victory today and be in the fight for the same result tomorrow. I'm happy to be winning trials again. Battling with Adam brings out the best of me. We are riding like never before. We are at a point of near-perfection that will be difficult to beat, which is worth a lot more than the victory because we know there's no room for error. I think that I've been improving in the easier trials and I showed it today. |
| | A tough day for me. I had a few back problems last week. I tried to soothe the pain but in the second section it came back and then, after that, the sections were like a lottery for me and I made a lot of faults. At the end of the second lap I started warming up and the pain let up a bit. I was unable to compete at high level and I feel bad for the team because for this trial you need a high level and I wasn't up to it. |
| | Today I was very motivated. I really wanted to get it right and I knew from this morning that it was going to be a good day. I remained very positive throughout the trial and I felt perfectly at ease on the bike. I was riding very well on the first two laps and I'm pleased about that. On the final lap I picked up a fault for stopping which meant I collected more marks, but it has been a great day for me all the same. |