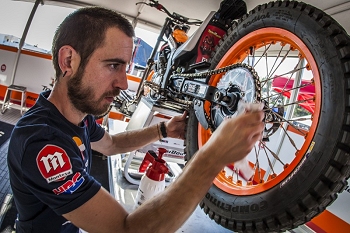 Toni Bou arrives back in Galicia this weekend as world champion, having clinched the title with one GP still to go in the FIM Trial Outdoor World Championship. The Repsol Honda Team hero, fresh off the back of achieving the season's maximum objective, returns to home soil to do battle in a trial that has always brought out the best of Bou; one that he has consistently triumphed in since first winning the championship back in 2006.
Takahisa Fujinami, heads into the final GP of the season intent on confirming his presence among the sport's elite. In Portugal the Japanese rider was plagued with back problems and has undergone physiotherapy to be able to finish the season on a high. The Repsol Honda Team rider will be hoping to score a top five championship finish, a feat that he will have achieved on twenty occasions.
The Repsol Honda Team's Basque rookie, Jaime Busto, also arrives at the trial with a challenge lined up: finish the year on the podium. The youngster narrowly missed doing so in Portugal and won't want to finish the season without savouring the winner's champagne. Busto has so far been the revelation of the year, being the best debutante in the history of trial's top flight.
The trial in Teo will have the paddock in the sports area at A Ramallosa. There will be five sections close to the starting line and another five in Mirador de Lampai in A Agrela. The route will be 18.5 kilometres in length, to be completed over three laps. As is usual, the last rider to start will do so at 11:00 local time in Spain.
| | |
| --- | --- |
| | Now that the main objective of the season – the world title – is out of the way, the only thing left to do is to enjoy the two final trials where I will be able to take it a bit easier. I just want to enjoy this trial without the pressure of having to win. I hope that people come to the trial and have some fun like I do in a Grand Prix where I always give it my best |
| | After the difficulty that I had in the Portuguese GP, I hope that I get a more satisfying result and above all, without having the back problems. I'm going to work to recover physically and finish the world championship in the top five. It will be twenty years amongst the world's top! |
| | In Portugal I was very close to the podium and the truth is that I don't want to finish the season without knowing what it feels like to be up there in the top category. I know that at worst I will finish the world championship in sixth place, which is a great result for me in my first year in World Pro. Last week I felt great on the bike and I would like to repeat it. The more fun I have, the better I perform. |