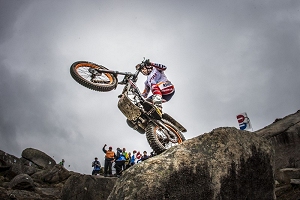 Toni Bou went into the season's final trial with a more laid-back approach after having sealed his ninth consecutive world championship title last weekend. In spite of the title, the Repsol Honda Team ace was as hungry for victory as ever, but saw hopes of a win on the first day fade after completing the twelve sections with an excess of penalty marks. The trial turned out to be a relatively simple affair, although some overnight and early morning rain had left the terrain in a delicate state. Even so, Bou and Raga – today's winner – were able to complete the second lap collecting just one mark each on the scorecard. A five-point fault on the first lap and some last lap slip-ups meant the Montesa Cota 4RT rider had to settle for second place.
Jaime Busto was unable to overcome some physical issues and posted a final eighth place. The Basque novice suffered a bout of intestinal troubles and had difficulty finding the verve necessary to tackle the more troublesome sections in the trial in Teo. Nevertheless, Busto has his sixth overall position assured in the championship.
Takahisa Fujinami also had a bad day in the office in Galicia. The Japanese was unable to shake off the back problems that hampered progress in last week's trial. A sharp movement in section one was enough to cause a recurrence of the pain that lasted throughout today's entire event.
Sunday sees the second day of the Spanish GP and the final day of the FIM Trial World Championship.
| | |
| --- | --- |
| | It was a difficult day. Once again, we had a trial where there was no chance of making a mistake, but I committed a fault on the first lap, maybe because I was not as focused as I should have been. The second lap went well, but I made some unnecessary errors on the final one. But anyway, I have to hand it to Adam, who made things harder today. When you don't win, a runner-up spot is a positive result. It's important to enjoy the weekend of the last round of the world championship which has been so good and go all out for the win tomorrow. |
| | I wasn't able to train during the week as the physiotherapist has been treating me for the back pain that arose in Portugal. But I did train yesterday and this morning and everything felt good, but a double-step in the first section caused a pain that left me physically weak. I didn't have the confidence to be able to finish some of the more complicated sections and my only hope now is to recover a bit tonight and finish the year well tomorrow. |
| | I wanted to give it everything here, but I think that I must have eaten something bad yesterday that made me feel ill. This morning I woke up with problems and I didn't manage to improve until the final lap, where I finished with a more decent result. It's a pity but I continue to believe that I can finish the season with a great result. |