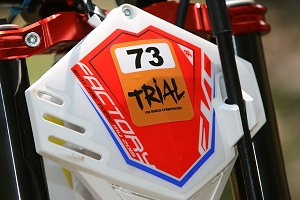 The 2016 FIM Trial World Championship gets underway this weekend when Cal Rosa, Spain hosts the first of the eight round series, seven of which will be two day events, with Belgium in July being the only single day competition. A total of fifteen counting days will finally decide the eventual 2016 FIM World Champion in the blue ribbon class.
This year following the lead of other disciplines such as road racing (MotoGP) and motocross (MXGP) the various classes within the FIM Trial World Championship have been renamed as follows: The World Pro class is now known as TrialGP, whilst the Trial World Cup becomes Trial2 and the 125 Cup is now titled Trial125. The changes are designed to better distinguish the three different categories.
As the current lead nation within the sport it is fitting that Spain hosts the opening round and in a strong Trial region of Catalonia. Cal Rosal, which is one hundred kilometres north of Barcelona and near to the large town of Berga, is new to the series but the area is steeped in Trial history.
The second round, just two weeks later is the sole overseas event of the 2016 season and is a familiar destination with the FIM Trial World Championship having visited the famous Motegi circuit, Japan no fewer than sixteen times.
On the last weekend in May the title race moves back to Europe where the well-known venue at Gefrees, first used for a European Trial Championship round back in 1972, sees the German round mark the start of a busy period as the series really gets into its stride.
Two weeks later in early June the campaign trail shifts south to Saint Julia de Loria, Andorra, the venue deep in the Pyrenees being no stranger to staging Trial Grand Prix events and where the high altitude presents its own problems for the teams and their machines.
Immediately after Andorra, the contestants will then make the relatively short trip across to Lourdes, France that will be making its debut as a Trial GP host.
On the second weekend in July Belgium stages the only single day event in the 2016 calendar at Comblain au Pont which has seen World Championship action just once before, that being two years ago in 2014.
Great Britain will entertain the penultimate round of the 2016 tour and after four consecutive years at the venue close to Penrith, the British event now moves to Tong near Bradford. Bringing the event to the Yorkshire region for the first time in many years should hopefully draw a large crowd in what remains regarded as the birthplace of Trial.
After the traditional summer break, the series will come to a close six weeks later in early September when Italy play host at San Pietro Mussolino, in the province of Venice. With a good mixture of new and established venues the 2016 FIM Trial World Championship looks set to deliver another successful edition of this long-standing series.