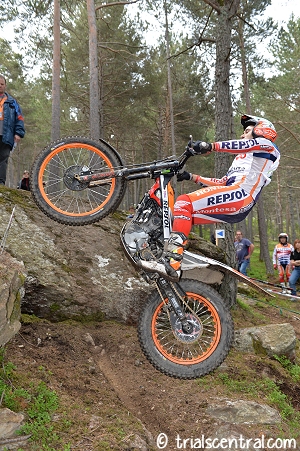 Yet again it was Toni Bou – Repsol Honda who ruled on the second day of the Grand Prix in Andorra, which marked round four of the 2016 FIM Trial World Championship. In much drier and easier conditions compared to just twenty-four hours earlier, Bou was almost faultless on day two as he parted with a mere four marks on lap one before then going absolutely clean on his final tour of the eighteen sections. Whilst Bou was supreme, Adam Raga – TRS was equally brilliant with only one single failure on his first lap preventing him from matching Toni. Runner up once again, Raga was also unpenalised on his last lap as he finished the day seven marks clear of Jeroni Fajardo – Vertigo.
This marked Fajardo's first podium place of the year, with the experienced Spanish rider finally showing signs of adapting to his new mount. For the second day in a row, Jaime Busto – Repsol Honda again missed out on a rostrum finish as he edged out Albert Cabestany – Sherco who made it a pair of fifth places over the weekend. Takahisa Fujinami – Repsol Honda was unable to repeat his top three spot from Saturday as this time out he placed sixth. Miquel Gelabert – Sherco signed off on a great weekend with a career best seventh position meaning it was James Dabill – Vertigo, Jorge Casales – Beta and Alexandre Ferrer who closed out today's top ten respectively.
Taking his second win of the weekend Bou said. "We knew it would be much, much easier today in the dry so this would increase the pressure too. Adam (Raga) was very unlucky to take a five in section three on the first lap, but with this gap it at least took away some of the pressure. For the rest of the Trial both Adam and I have ridden at a very high level and he has pushed me to the very last section so I want to congratulate him on his performance today. I will now recover this week and train only a little before France next weekend."
Bou heads to Lourdes, France for round five in six days' time with a seventeen point lead over Raga in the Championship standings.
Spain's Arnau Farre – Gas Gas secured his second victory of the 2016 campaign as he topped the Trial2 class on day two. Having finished seventh on Saturday, Farre rode his way clear of his rivals with an outstanding single mark performance on his last lap today. Series leader and Saturday's winner, Jack Price – Gas Gas had no answer to Farre and had to be content with second spot this time out. It also proved to be a successful weekend for Pierre Sauvage – Sherco as he again sealed third place. Yesterday's runner up Gael Chatagno – Sherco and early series leader Iwan Roberts – Beta completed the top five respectively on the second day of competition. Price remains at the head of the general standings and now leads Farre by twenty-eight points at the halfway stage in the series.
For the first time this season Max Faude – Beta claimed the top step of the podium in the Trial125 class. The young German rider finally got the better of his main rival and series leader, Jack Peace – Gas Gas as he beat him by an impressive nine marks today. For the second day in a row it was Spain's Eric Miquel – Sherco who took third place despite ending day two some thirty marks back from Peace. Thanks to his maiden victory, Faude has now reduced the gap to twenty points in the general standings with Peace still occupying top spot.
With no time to rest, the riders will continue their personal battles in the 2016 FIM Trial World Championship at the fifth round of the series in Lourdes, France next weekend 18/19th June.
Results

TrialGP Results

1. Toni Bou - 4

2. Adam Raga - 9

3. Jeroni Fajardo - 16

4. Jaime Busto - 27

5. Albert Cabestany - 29

6. Takahisa Fujinami - 32

7 Miquel Gelabert - 36

8. James Dabill - 37

9. Jorge Casales - 44

10. Alexandre Ferrer - 46

11. Franz Kadlec - 52

12. Loris Gubian - 62

13. Eddie Karlsson - 70

14. Oriol Noguera - 79

15. Matteo Grattarola - 84

16. Pol Tarres - 86

17. Hakon Pedersen - 101

18. Ole Kristian Sorensen - 142

pdf Download Full Results (146 KB)

Trial2 Results

1. Arnau Farre - 10

2. Jack Price - 17

3. Pierre Sauvage - 20

4. Gael Chatagno - 24

5. Iwan Roberts - 28

6. Dan Peace - 29

7. Luca Petrella - 30

8. Gabriele Giarba - 33

9. Marc Riba - 35

10. Filippo Locca - 39 (24 cleans)

11. Declan Bullock - 39 (22 cleans)

12. Teo Colairo - 39 (19 cleans)

13. Samuel Obrado - 47

14. Sondre Haga - 52

15. Jarmo Robrahn - 61

16. Gabriel Marcelli - 65

17. Maxime Varin - 85

18. Gabriel Giro - 114

19. Remy Corna - 124

20. Robert Shiek - 137

pdf Download Full Results (151 KB)

Trial125 Results

1. Max Faude - 19

2. Jack Peace - 28

3. Eric Miquel - 58

4. Paul Mehu - 81 (12 cleans)

5. Mikkel Brade - 81 (11 cleans)

6. Hogan Connor - 97

7. Christopher Wengler - 108

8. Gerard Trueba - 121

pdf Download Full Results (119 KB)

Download Standings After Round 4
Photo Coverage
Trials Central Supporters - Hi-res and unwatermarked gallery of 180+ images from the second day in Andorra can be accessed by clicking here.
Free Public Gallery