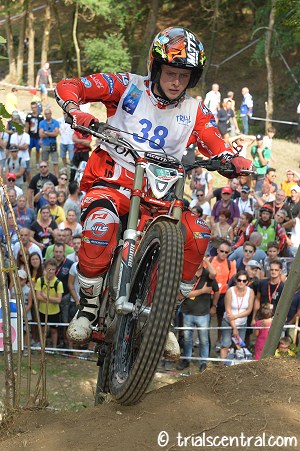 It was the last round of the 2017 WTC at the weekend in Italy. It was Cloburn/JSTGGUK rider Dan Peace turn to grab the limelight this weekend with a great win in the Trial2 Class on Saturday and a 5th on Sunday. It was Dan's third win of the series and has finished a fantastic 3rd in the overall championship behind team mate Jack Price and another British rider Iwan Roberts who was 2nd overall by just one point from Dan.
Great to see the top3 in the popular Trial2 Class all UK riders! Dan will remain in the T2 class for WTC 2017 where the goal of winning the title is the plan.
Cloburn/JSTGGUK young superstar Jack Peace had his first T2 event on 250cc power and was 15th on Saturday and 14th on Sunday. In the points on both days on his T2 debut was a good result. Jack was nevertheless not happy and now knows what to do over autumn and winter to try and beat his brother in next years Championship. Jack was helped by JSTGGUK No.1 rider Michael Brown who acted as Jacks minder. Michael ran round all weekend like a mighty atom and was invaluable to young Jack. Young riders always think they know better so having an experienced GP Class rider as minder was great for Jack.
Road and Trials GG rider and 2016 World T2 Champion Jack Price remained in the T2 Class and wanted to finish the year in style on the top step of the podium. This was not meant to be as Jack had a nightmare on Saturday finishing outside of the pints. A rare mistake by the GG team had the wrong mapping set on his Factory bike which lead to problems on the first lap. With a long 30 minute ride to section 2 up the mountain the bike was not right. Too late to change and no time to return to paddock Jack had a bad lap1. Lap 2 was better after a quick re-map was made. He was then well late on time and had to ask for fives on the last lap. The strength of JP34 this year has been his mental strength and he just shrugged the day off with ease at the finish. Normal business resumed Sunday and Jack finished 2nd. Jack now goes to the TDN in France where he will represent Team GB in his first Trial Des Nations with pal James Dabill and Betas Iwan Roberts.
The GG Girls were in the results in the women's WTC Class too! With Factory rider Sandra Gomez finishing 2nd and 5th, GGUK girl Katy Sunter had a creditable 10th on Saturday but a DNS on Sunday after tweaking her dodgy knee on the last section on Saturday. A wise decision for Katy not to ride Sunday with view to hopefully riding this Friday in WTC Isola, France.
The biggest smiles came from Cloburn GG girls Louise and Catherine Alford. Louise just scrapped a WTC point for 15th and Catherine enjoyed the whole experience and simply had fun.
For me a very satisfying first year back in the paddock for GG with 2 x World Trials Champions! Very proud to help out guys