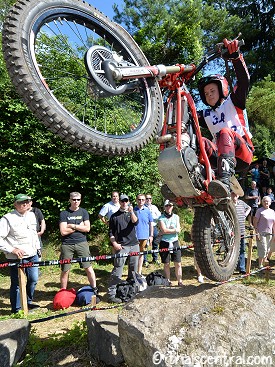 The 2016 FIM Trial2 World Cup winner, rising British star Jack Price - Gas Gas is mixing it with the big boys this year following his move into the premier TrialGP class and will get his first taste of top-flight competition at the opening round in Spain over the weekend of 13/14 May.

The nineteen-year-old, who will celebrate his twentieth birthday while competing at TrialGP Japan, opened up his account in 2016 with his worst result of the year when he finished seventh on day one in Spain. After that he was never out of the top three, taking seven wins on his way to a comprehensive victory.

"I rode Trial2 in 2015 and finished seventh with two wins which wasn't really where I wanted to be," said Jack. "So I practised hard over the winter, came back and won it last year. It was a great feeling."

To prepare for his 2017 campaign Jack's spent much of the winter away from his home in Yorkshire, the traditional heartland of British trials, in favour of practising in Spain.

"Since the end of November I've pretty much lived in Spain at Dougie Lampkin's house and just trained out there. The best riders are out in Spain, the weathers on your side and also the Gas Gas factory is only an hour away which makes it a lot easier to test."

With multi-time FIM Trial World Champion Dougie busy developing the Vertigo range of motorcycles, Jack's main training partner has been fellow British rider James Dabill.

"I've spent a lot of time with James over the winter, trying to learn as much as I can from him. We've been riding the same sections and I've been doing my best to keep up with him. His level is very, very high so I can gauge myself against him."

A British champion at every youth level, Jack knows the 2017 season will be the biggest challenge he has ever faced.

"I'm riding the best I've ever ridden and hopefully it will be good enough to challenge for a few top ten finishes this year. Finishing in the top ten in the championship would be an outstanding achievement, but it's more of a sighting year for me. I intend to learn a lot and take that into the following season.

"TrialGP has always been my ultimate ambition. It's pretty much all I've thought about to be honest. It's a massive step and I don't think you can ever be fully prepared for it, you just have to get on and do it. You can train and train and train, but it's just about getting out there and doing it now."