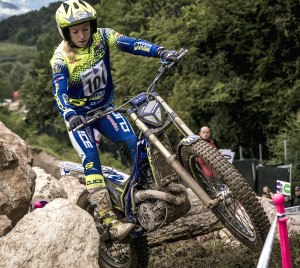 The current Queen of Trial, Emma Bristow - Sherco is currently head and shoulders above every other female rider on the planet and she is an odds-on favourite to clinch her fifth consecutive TrialGP Women crown at TrialGP Great Britain at Silsden on 1st/2nd September. Round seven of the FIM Trial World Championship is also the final event in the TrialGP Women and Trial2 Women competitions and with a seventeen point lead Emma - who will debut the 2019 300cc Factory model Sherco - only needs to finish to be virtually assured of the crown.
"It's fantastic to have the opportunity not only to ride in England on home soil, but to also possibly clinch the title there so that's really special for me," said Emma. "I've got some friends and family coming that don't usually go which is great but I've got a job to do - that's to win the title again. My sponsors Malcolm and Rhoda Rathmell will be there too and I haven't ridden in front of them at a World round for a long time so I want to put on a good show for them."
In her sixth-year riding for Sherco, the twenty-seven year-old from Lincolnshire has reasserted her command at the front of the field following a shock defeat at the final round of the 2017 campaign at TrialGP Italy. That loss to Germany's then Beta mounted Theresa Bauml ended a World championship win-streak that stretched all the way back to May 2015, but this season, after two rounds and three days of top-flight competition, she remains unbeaten. In fact, if anything she has been even more dominant in 2018. Emma's yet to take a qualifying win - her best result was second at TrialGP Japan - but when points are on the line she has been unstoppable and each time out has finished with a total at least half that of the second-placed rider. "It would be nice to finish the season unbeaten, but it's not always easy and I'll have to do the business on the day so I'll have my head down and be concentrating on what needs to be done."
With the women competing over an abbreviated calendar compared to their male counterparts, this will be only the third time Emma has competed at world level on home turf with her last appearance coming at Tong in 2016. This time around the action stays in Yorkshire, but moves to the iconic Addingham Moorside venue - and Emma can't wait. "The venue is fantastic. I love that kind of riding because it's quite technical so I think I'll really enjoy it. I love it there. The last time I rode there was for the British championship and I had a good result - it suits my style of riding."
The imposing boulders set into a steep hillside are where the great Dougie Lampkin cut his teeth and Emma's hoping for the sort of super-tough sections that she always excels on and which allow her to showcase her silky-smooth skills. "Ideally, it will be hard. Because there are two routes for the women now I think it's necessary that they put some harder sections in and that will give me the opportunity to show that I can do harder stuff. Harder sections are better for me and I enjoy them more. With the easier sections I'm more tense on because you really can't afford to make mistakes so I tend to enjoy the harder sections more. That's when I ride like I can in practice when I'm more relaxed."
Make sure you are there to support Emma and the other female riders, and hopefully witness her secure a fifth title. Visit www.trialgp.com to order discounted advance tickets, and to be in with a chance of winning a set of signed Emma Bristow gear if you purchase tickets between Wednesday 15th August - Friday 17th August.