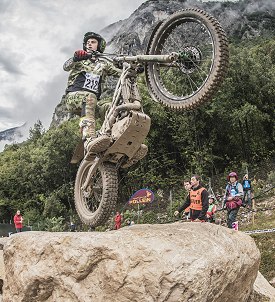 For the second year in a row it is a British rider who is in pole position in terms of battle to become Trial2 World Champion, as the FIM Trial World Championship nears the end of its summer break and prepares to reconvene at Silsden on 01-02 September for TrialGP Great Britain. At just eighteen-years old, Toby Martyn is a young man with a whole lot of promise. In 2017 he was fourth in the championship with three podium finishes including victory at the final round, but his campaign was characterised by a lack of consistency mixed with flashes of brilliance.
This season, another year old and wiser, Toby's been pretty much rock-solid and last month at TrialGP Belgium - round six of the series - he finally took the championship lead with his second consecutive win to go with his first victory of the campaign on day one at TrialGP Japan at the beginning of June. After sustaining a potentially serious injury just days before it was a remarkable performance and one that gives him a two-point advantage with just two rounds to go.
"On the Thursday before I dislocated my shoulder in a crash," he said. "I put it back in myself. I just put my hand on my foot and pulled up and it popped back in, but it was quite painful. We went to the hospital and they did all the check-ups and it was fine - I hadn't done any damage. Luckily, I was still able to ride at the weekend and pull out a win as well which was nice."
Toby started the championship with a fourth-placed finish at the opening round in Camprodon in Spain. After his off-season switch from a two-stroke Vertigo to the four-stroke Montesa it was perhaps only to be expected as he adapted to his new machine but other than small blips in Andorra and Portugal he has not been off the podium since. "At the start of the year it was definitely a bit different and it took a lot of getting used to but now I've put in the hours and got used to the bike it's incredible what it can actually do. I think I've adapted to it well - I'm really happy with my riding on it and it's all coming together in the world championship. It was a bit of a slow start, but I've now got three wins in the bag and I'm leading the championship. I'm feeling confident. I feel that we've worked hard enough with the bike and in the team and think that we can really push for the win again. We have in the last two rounds and I feel with the home crowd behind me it will be nice to get it on that top spot. After my injury in Belgium I came back hurting a little bit, but I've put in some good training and I'm feeling good."
As the championship enters its final quarter the Cornish teenager's only serious rival for the title is veteran Matteo Grattarola who has dropped down to Trial2 this year after finishing tenth in the premier TrialGP class in 2017. The Honda-mounted Italian built up a commanding early lead - following the first three rounds he was eighteen points ahead of Toby - before a slump in form coincided with Toby finding his groove. "Matteo and I are fighting hard but we're good friends. I think he's had a few unlucky rides, but he's still been riding well and pushing all the time. He's so experienced it will be hard for me to get him to crack under pressure but I'm doing my best to push him."
So what would the title mean to Toby? Well, apart from attending the glittering FIM Awards Ceremony as a bona fide World champion it could also give him the opportunity to move up to the TrialGP class in 2019. "That's the aim. I'm 18 years old and looking to go into that class as young as possible. It's the best way to learn and to rise up. The level of riders in that class is so high so I know how difficult it will be but I'm determined to keep progressing."
Make sure you Toby gets the home support he deserves by attending TrialGP Great Britain this weekend - 01-02 September at Addingham Moorside. Whilst advance tickets sales are now closed, tickets will be available on the gate throughout the weekend