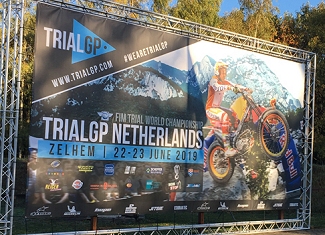 It may still be 2018, but planning for the 2019 FIM Trial World Championship is well underway and round three will mark an important moment for the series as it returns to the Netherlands after a forty-year absence. The only other previous edition of TrialGP on Dutch soil took place at Norg way back in 1979 where, on that single occasion, the event was won by the late Ulf Karlsson in a year when Bernie Schreiber went on to take his only World title.

Always looking to develop the sport in different countries and to work with forward thinking parties, Sport7 was delighted to receive an initial enquiry from the Dutch Motorcycle Federation (KNMV) and Zelhemse Auto-Motor Club (ZAMC) during the 2017 season. It was clear from the first communications that there was an enthusiastic desire to bring top level Trial back to Holland, and that the three key stakeholders shared the same goal to make it happen as soon as possible. Contact and negotiations continued throughout 2018, with representatives from the local organiser ZAMC - including course designer, multiple Dutch Trial Champion Alex van den Broek - visiting further TrialGP events to better understand the scale of their task and take learnings back to their own situation to ensure that they were capable of delivering the best possible event.

Having already hosted two highly successful European Trial events in 2012 and 2017 at their purpose built and permanent Trial venue at Zelhem, ZAMC embarked on the huge undertaking of upgrading and introducing new sections in order to create a course worthy of World Championship status, having imported boulders from Germany, Demark and Belgium. Work has and will continue over the coming months to create what is sure to be one of the highlights of the 2019 season when TrialGP Netherlands takes place at Zelhem on 22/23 June next year.

Speaking about welcoming Holland back to the series, TrialGP Championship Director Jake Miller said. "Having the Netherlands back in the calendar after four decades is a massive moment for the championship and confirms our commitment to stimulating interest in new and dormant countries, as being one of the main ways to grow the sport by inspiring young riders who will hopefully compete at the highest level in the future. From the first time we met with Mario Pieterse from KNMV, it was clear that we were working with a modern and progressive national federation who transmitted a can-do attitude. The same can be said for Dick Bulten from ZAMC, who has an incredible passion for Trial and has worked tirelessly over a number of years to execute the perfect plan in terms of developing the venue to finally realise his dream of bringing TrialGP back to Holland. Dick and his team have to be congratulated on the huge effort they have done to date."

Adding his own comments, Mario Pieterse from KNMV explained. "We are excited to welcome the World Championship back to the Netherlands. Zelhem is a spectacular venue for a TrialGP event. ZAMC is determined to make it a great experience for both riders and spectators with video walls and a grandstand overlooking some of the sections. Thanks to the joint effort of ZAMC, Sport7, the FIM and KNMV we are looking forward to a memorable event."