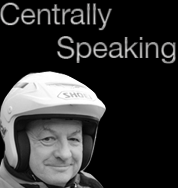 Heck, two columns in almost as many weeks, at this rate I'll be back to writing regularly! The reason for this sudden surge in words from the Rapley laptop came as a result of a brief chat with my good friend Carles Casas whilst he was waiting to be scrutineered for the Pre 65 Scottish Two Day Trial last Thursday evening.
I had overheard him talking to another rider about the cost of trials riding in Spain and in particular how much it costs him to come and ride in Scotland every year.
Bearing in mind how much we pay in England for our sport – and let me remind you now in case any of my readers digests these words but never actually rides a trial – we pay £10 to the ACU for a Trials Registration Card, and in the case of my own club, we charge £15 for a Sunday trial entry, £12 for a Wednesday evening trial entry and £22 for entry to our national trial. I guess these amounts, within a few quid, are about average for most clubs.
Let me now tell you what Carles and his fellow Spanish trials riders have to pay. Their national competition licence is 300 Euros (about £255), he has to pay a further 254 Euros (£210) for Spanish permission to ride in a foreign trial – in this case the Pre 65 Scottish, and a further 500Euros (£420) to the FIM for an international licence (required for the Six Day itself) – nearly £900 just to get himself to the start of his Scottish experience. A normal Sunday club trial entry in Spain is 40Euros (£33)
And you may well have considered that trials in the UK were expensive. Just thought you'd like to know.
And whilst I'm on about the Pre 65 Scottish, what a great result by Rob Bowyer, a most popular winner, an opinion voiced by everyone I spoke to.
From the above, you'll have obviously guessed that I've been in Scotland for the past ten days, something that I do every year along with numerous other like minded folk, though it has to be said that this year there seemed to be fewer spectators than ever. Cost is the governing factor I suppose, not to mention the need to take time off work or to make use of holidays, something that fortunately doesn't bother me being self-employed and now part retired.
It never ceases to amaze me how much effort is needed on the part of so many volunteering folk to get the trial under way, and we are fortunate that there are people still willing to put so much time in.
One question asked was whether anybody will ever match Nigel Birkett's record of 43 consecutive rides, but perhaps the question that should be asked is whether the event will run for long enough for anybody to consider matching his achievement. I can't answer that question and I don't suppose there's anybody else who might care to make a guess. However, what is for certain is that without Sandy Mack organising the refuelling with his Army colleagues there would definitely not be a Scottish. Long gone are the days when folks drove around with 25 cans of fuel in the back of their Transit vans.
However, this year there were several new routes added to the event and on wet Wednesday I was fortunate enough to speak with Clerk of the Course, Jeff Horne, his Deputy Jimmy Reid and past C-o-C Mark Whitham who were together at Glen Stockdale.
I asked Jeff how he had managed to get such a big new route in for that day and without describing word for word how he managed it, basically he knew of an Estate Manager who is a business client who was amenable to the idea, who suggested the name of a Forester to contact which led to him learning of a farmer who might have some land that was suitable, who in turn spoke to his neighbours and between them a route became available. Easy you might think, but that lot took more than a year to organise and as Jeff said, it only needed one tenant/landowner/farmer to say no and the whole route would have fallen down.
Like all good clerks of the course, Jeff and his team were out every day keeping an eye on how things were running, but he and his immediate deputies were only the faces of the trial because in the background there's a multitude of helpers physically marking out the sections, marking the road routes and of course back marking, picking up the flags – and they get the worst end of the stick because the route over the boggy parts is at its worst following the passing of 250 plus riders.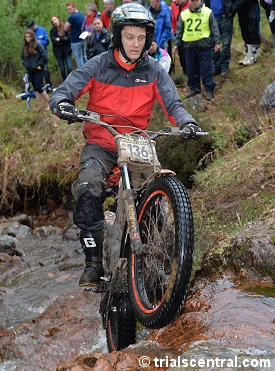 Guy Kendrew, 2014 SSDTBut of course you know all that!
As it's getting on for 20 years since I last rode (one too many!), I can't say how tough the trial was this year except to say that in my opinion, the general ability level of the riders in recent years has been very high and the days when real strugglers were entering seems to be over. Of course there are always going to be riders at the tail end of the results who it might be said have taken on more than they could handle, but generally the riders were more than competent to tackle what was thrown at them.
Having just watched the Spanish F1 GP on Sunday afternoon before settling down to write this, I want to follow Martin Brundle's lead and nominate my rider of the week. Doug, winning for the eighth time is the obvious choice and I'm not going to take the easy option as he started favourite and delivered like the true professional he is. No, my rider of the week is fourth placed Guy Kendrew who quite simply upped his game and produced a result way, way above that most folks would expect of him. If, on Monday morning anyone had suggested he would finish in front of everybody except the three past winners on the podium, there's a good chance they would have been laughed at. So well done to Guy for having such a great week.
Obviously there's a load more that could be written about, but the above seems to be enough for this effort.