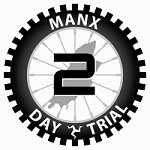 Josh Brain successfully defended his Manx Two Day title with a narrow victory over MRS Sherco mounted Ricky Wiggins. Wiggins had an impressive second day ride, losing only 1 mark to keep the pressure on Brain right to the end, but Gas Gas mounted Brain held his nerve and completed his third victory by a narrow 2 mark advantage over Wiggins, with another local rider, Barry Kinley slotting into third.
The solo clubman class saw Irish rider Phillip Hanlon at the top of the pile. Sharing the overnight lead with son Jake, Hanlon had 4 marks in hand over Michael Clarke who finished on 14, with Gavin Cooper third on 21.
The sidecar class saw a historic local win as Jamie Teare/Jane Birchall completed the first Manx sidecar victory since 1971.
Things were extremely close and the winner was decided on the final section of the trial. Teare/Birchall were level with Nigel Crellin/ Chris Molyneux throughout the event but managed to stay calm and take a narrow 1 mark victory.
Darryl Dale/Hannah Etherington took third place after despite managing to clean the second day, with Rupert/Chris Kimber fourth and Robin/Sam Luscombe fifth.
Full results available at www.manx2day.co.uk