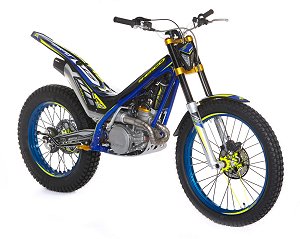 With the arrival of the Sherco Factory Replica 300 UK Importers Malcolm Rathmell Sport have had a lot of enquiries for the same bike in a 250 version.
After a lot of persuasion the factory have agreed to make a small batch of 10 Factory Replica 250 models just for the UK market. These will be sold on a first come first, served basis so if you are interested in one please contact your dearest Sherco dealer without delay.
The 250 model will have the standard 250 engine and Dellorto carburettor but with all the bling which makes the bike look so stunning. The price for this special run will be the same as the 300 model and at £5,550 it is still a bargain with an original Ohlins rear shock, special 100% aluminum Tech forks, special blue wheels with the two yellow spokes and graphics which mirror their Factory enduro bike.
These bikes will arrive next week and will be available along with the existing 300 Factory Replica. At this time the standard Sherco is not available and the factory are yet to decide whether to make a further batch. More details on this will follow.