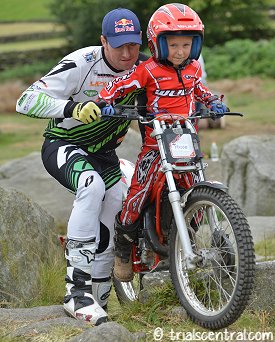 Last weekend saw Red Bull athlete Dougie Lampkin's long standing Master Class Trials School take place at the famous Addingham Moorside venue in Yorkshire that overlooks Dougie's hometown of Silsden. Now in its seventeenth successive year, the highly popular annual summer training camp was extended to a total of three days this time around with places on the course selling out in record time.

Multi FIM Trial World Champion and nine times Scottish Six Days Trial winner Lampkin was once again joined by an extremely strong supporting cast of fellow instructors to ensure that the twenty plus participants each day received the best tuition possible and the personal attention that the Master Class has become famed for.

This year the instructors who assisted Dougie included familiar faces in the form of recently crowned six times British Trials Champion and fellow Vertigo rider James Dabill; former FIM Youth Trial World Champion Jack Sheppard; plus newly recruited FIM Trial World Cup contender Jack Price. Ben Hemingway and James Lampkin, both of whom are World Championship minders of great note supported this current crop of riders.

Beautiful sunshine shone warmly overhead on all three days as riders from six years old to sixty plus were put through their paces using a programme that was designed to create an enjoyable and structured learning environment. As has become the case over the last fifteen years or so the eager participants were made up of a mixture of returning regulars and those who were making their Master Class debut.

With the riders split into groups according to their ability and level of endeavour, everyone enjoyed time with Dougie and the other instructors during their four hours of riding each day that started with a morning briefing and introduction, which was punctuated by a hearty and included Yorkshire lunch.

The instructors concluded the action on all three days with a breath taking demonstration of skill and bravery, which was then followed by a prize giving session where all participants who had successfully completed the course were presented with a certificate to recognise their achievement. Further awards were also presented for rider development in each group on each of the separate days.

Delighted with the response to and success of this year's Trials School Dougie said. "It's been another amazing three days. The level of enthusiasm and determination of all the riders who came over the three days irrespective of their age or ability has been simply incredible."

"There is no doubt in my mind that we continue to have the best group of instructors who do an excellent job in sharing their expertise, experience and sheer passion in a way that really inspires and drives the riders on to do things that they would not have normally done. That real sense of achievement can be seen by the big smiles as they ride out of the ends cards having cleaned a hazard that they first thought was beyond them."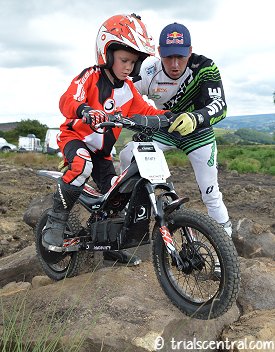 "It's great to have such a wide range of age groups who come each year, but the thing that pleases me most is the increased number of really young riders who we had this year who are new to the sport. All of them were great characters, full of life and some were very talented and are potential champions of the future if they continue to work hard."

"Finally I would like to thank Red Bull and my other sponsors for supporting my Master Class once again and for providing the opportunity to inspire and give the next generations their wings."

The next Dougie Lampkin - Master Class - Summer Trials School will take place in August 2016 (exact dates TBC) and will be on sale from December 2015 - Please visit www.g2fshop.com for more details later this year.
Trials Central were in attendance on Saturday and Sunday (not Friday, unfortunately) this year and our photos from a most enjoyable weekend can be found on our dedicated Trials photography site, TRIALSPHOTOS.COM
Our thanks go to Mart & Isobel and Doug & Nicola for their hospitality.