As 2019 rapidly approaches, the ACU have released dates for the various British Championships for the new year. These can be downloaded below, but new for this year (and a tedious job it was!), we have added them ALL to the Trials Central Events Calendar. This is used by many to plan their weekends so it's only right it has complete coverage.
Many of the events are just placeholders for now as we only had limited information, but they will be expanded on once further details become available. Clubs - you will not have permissions to edit the events we've added so, if you add the same event with full details, please get in touch so the placeholder can be deleted and we don't end up with duplicate events in the calendar.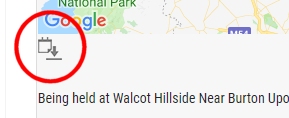 We have also now added the ability to download and add event details to calendars on your computer or mobile device. Simply click the Calendar icon within the detail of any event and select "Save iCal" to download the calendar.ics file. Open that file and the event will automatically be added to your calendar (remember to save it).
Now that the various upgrades to the site are completed, we are back open for new registrations from Clubs wishing to use the Calendar and news facilities on the site. Just contact us to get login details set up.
pdf Download 2019 British Trials Championships Dates (124 KB) (as at 14th December 2018)
For up to date World Championship calendars, click here.